August 10, 2020
The Cephalon whistleblower who first exposed the pharma company's off-label marketing of potentially dangerous drugs has published a book that tells the heartfelt story of his experience as a whistleblower.
Bruce Boise, who was represented by Phillips & Cohen LLP in his whistleblower case against Cephalon, writes about his years-long struggle to bring the drug manufacturer to justice in his new book, Cold Comfort: One Man's Struggle To Stop The Illegal Marketing Of Powerful Opioid Drugs And Save Lives.
Boise triumphed in the end. Cephalon paid the federal government $425 million to settle civil and criminal charges related to the off-label marketing charges in 2008. Boise received a significant whistleblower award under the federal False Claims Act and similar state laws.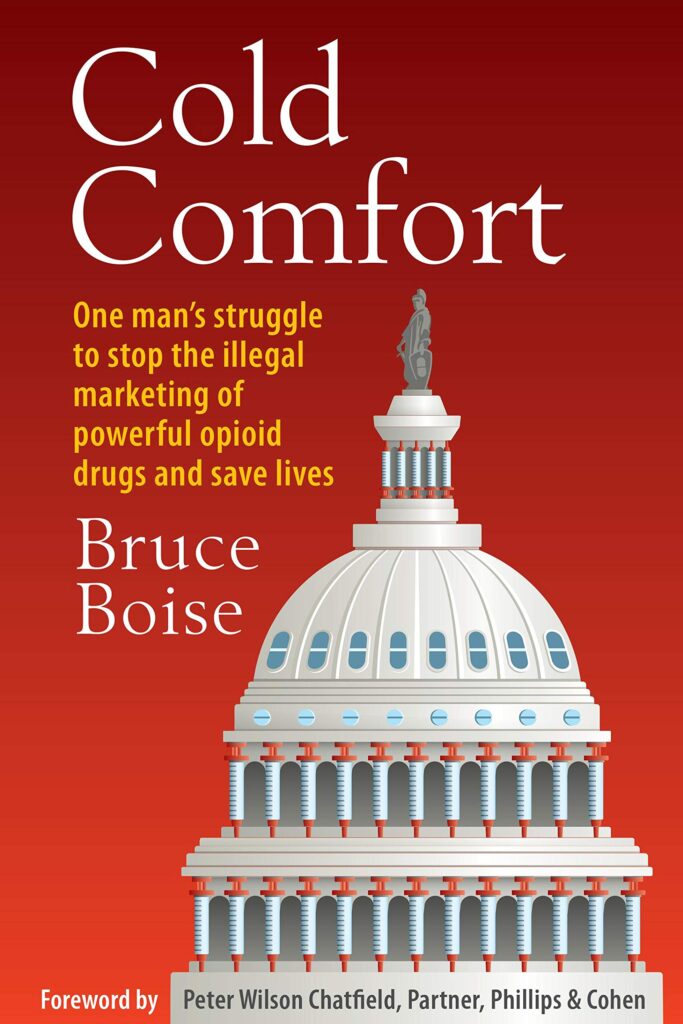 The Cephalon case was noteworthy not just for the size of the settlement, but also for being the first time the federal government used the False Claims Act to pursue a pharmaceutical company for off-label marketing when kickbacks weren't involved.
In addition, Boise was one of the first whistleblowers to alert the government to pharma companies' aggressive, inappropriate and illegal sales tactics to push doctors to prescribe fentanyl, a powerful and highly addictive synthetic opioid, for unapproved medical uses.
He alleged that Cephalon was marketing Actiq, an opioid lollipop, as a general pain treatment even though the US Food and Drug Administration had approved Actiq only to treat cancer patients when their usual pain medication doesn't control "breakthrough" episodes of extreme pain.
In an episode of the CBS program, "Whistleblower," that featured Boise and his case, the show's host, Judge Alex Ferrer, called Boise "the canary in the coal mine" of the opioid crisis.
Boise also alleged off-label marketing of Gabitril and Provigil by Cephalon.
He was so concerned about Cephalon's marketing practices that he contacted the FDA and agreed to wear a wire to a Cephalon sales conference to gather evidence of the company's misconduct.
His decision to blow the whistle cost him his career. Cephalon fired him, and he was blackballed in the pharmaceutical industry. He lost his home and his health coverage. The FDA case languished. Mr. Boise later learned of the False Claims Act and retained Phillips & Cohen to file a "qui tam lawsuit" for him against Cephalon.
Peter Chatfield, a whistleblower attorney and partner at Phillips & Cohen who represented Boise in his whistleblower lawsuit against Cephalon, praised his client's character and courage in the book's foreword.
"Most people who become whistleblowers do so because their personal moral compass demands that they speak up and try to stop the wrongs they see …. Bruce Boise is that kind of whistleblower and more …. It was an honor to fight by his side."
About Phillips & Cohen LLP
Phillips & Cohen is the most successful law firm representing whistleblowers, with recoveries from our cases totaling over $12.3 billion. We have been recognized for our work by numerous national awards. The New York Times, The Wall Street Journal, the Financial Times and other news media have featured many stories about our cases and our attorneys. Phillips & Cohen's roster includes former federal prosecutors, the first head of the SEC Office of the Whistleblower, a former deputy administrator of the Centers for Medicare and Medicaid Services, the author of a leading treatise on the False Claims Act and attorneys with decades of experience representing whistleblowers.