The whistleblower lawyers at Phillips & Cohen have been honored with numerous awards for their cutting-edge work and the outstanding results they have achieved for their whistleblower clients.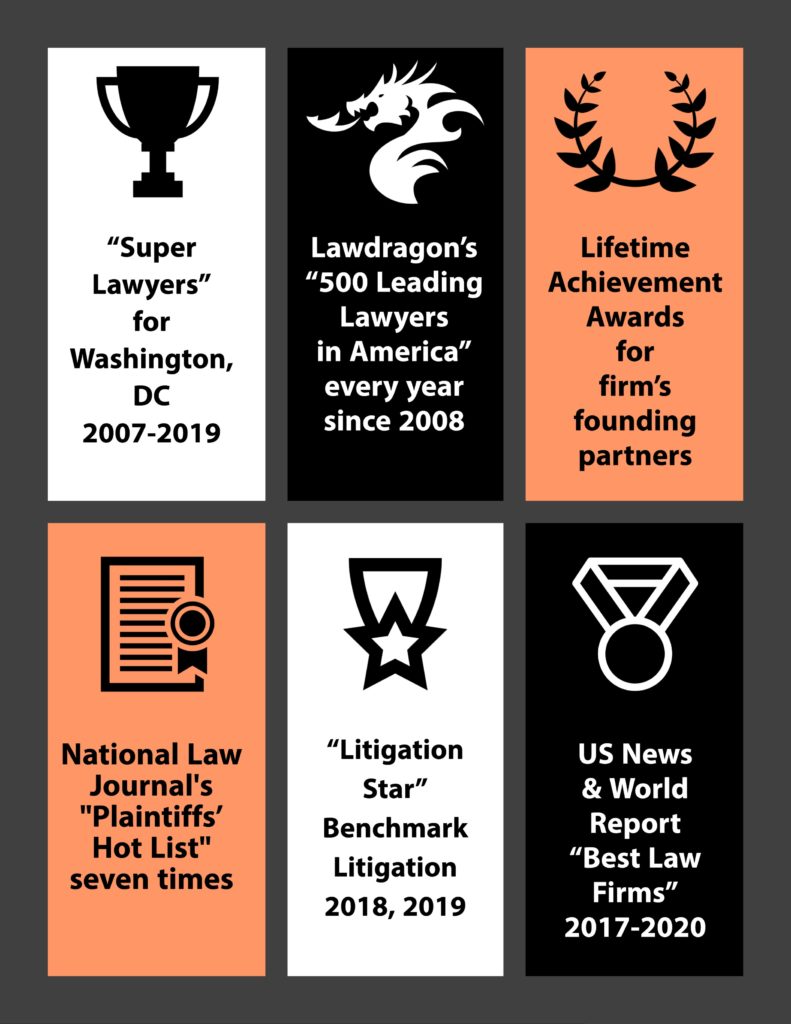 "Best Lawyers" for Washington, DC qui tam tam attorneys – 2020
"Super Lawyers" for Washington, DC – 2007-2019.
"Rising Star – Super Lawyers" 2019
Lawdragon's "500 Leading Lawyers in America," 2007-2013, 2014-2015, 2016, 2017, and 2018, 2019, 2020
Benchmark Litigation "Litigation Star" 2018, 2019
Compliance Week's 2017 "Top Minds" award, presented to the "best and brightest in the governance, risk, ethics, and compliance profession."
Washingtonian's "Top lawyers in DC" in the whistleblower law category 2012, 2015, 2017, 2018.
"US Top Ranked Law Firms," 2014, 2015, 2016, and 2017 – Martindale-Hubbell.
"Public Private Partnership Award" for 2016 from Taxpayers Against Fraud Education Fund for exceptional work on a highly successful collaboration between the Department of Justice and whistleblower team on a False Claims Act case.
"Plaintiffs' Hot List" of law firms selected for "exemplary work," track record and significant wins –National Law Journal, 2004, 2007, 2009, 2010, 2012, 2015 and 2016.
"Attorneys Who Matter," 2015 & 2016. Ethisphere Institute highlights those "who have made a significant difference in the ethics and compliance fields through their respective professions."
"Lifetime achievement award" for work on whistleblower cases – Taxpayers Against Fraud, 2013.
"Whistleblower Lawyer of the Year" for 2012 – Taxpayers Against Fraud.
AV ratings – the highest ratings for legal ability and ethical standards – by Martindale-Hubbell legal directory.
Phillips & Cohen whistleblower lawyers Stephen Hasegawa and Edward Arens were finalists for Consumer Attorneys of California's 2015 "Consumer Attorney of the Year." The group featured Mr. Hasegawa in the below video, where he discusses the whistleblower case that got them nominated.