January 04, 2019
Whistleblowers continue to play a major role in stopping healthcare fraud and other fraud against the government, according to the latest statistics on False Claims Act cases released by the US Department of Justice.
In fiscal year 2018, "qui tam" cases filed by whistleblowers helped the government recover over $2.1 billion out of the total $2.8 billion the government recovered from all civil fraud cases. An overwhelming portion of the recoveries – $2.5 billion – involved the healthcare industry.
"The nearly three billion dollars recovered by the Civil Division represents the Department's continued commitment to fighting fraudsters and cheats on behalf of the American taxpayer," said DOJ Principal Deputy Associate Attorney General Jesse Panuccio in a press release.
Despite the significant recoveries, the total for 2018 is the lowest amount collected as a result of qui tam cases since fiscal year 2009, when $1.99 billion was returned to the US Treasury, and is $1 billion less than was recovered last year through whistleblower cases.
DOJ's statistics exclude criminal fines collected due to qui tam cases and do not include qui tam recoveries by state governments, such as those from Medicaid fraud cases. Jointly, those represent many billions of dollars recovered over the years.
With lower recoveries, the total amount of whistleblower rewards also dropped compared to the last nine years. Altogether, whistleblowers received $301 million in reward payments in fiscal 2018 for information and assistance that helped stop Medicare fraud, defense contractor fraud and other types of fraud against the government.
However, whistleblowers continued to file a significant number of qui tam lawsuits on behalf of the government, encouraged by the overall success of qui tam cases. Whistleblowers filed 645 qui tam cases last year, slightly fewer than the 680 filed in fiscal 2017.
Whistleblowers represented by Phillips & Cohen were involved in two significant healthcare cases in FY 2018:
After a federal district court trial in South Carolina, three former executives of medical testing labs were ordered to pay $114 million in trebled civil damages and penalties for violating the False Claims Act by paying illegal kickbacks to physicians. The fraud scheme came to light as a result of three qui tam cases, including one filed by Phillips & Cohen on behalf of Dr. Michael Mayes. Dr. Mayes provided important testimony at the trial.
Another whistleblower client, Maria Guzman, provided the government with crucial information that convinced the federal government to investigate pharmaceutical manufacturer Insys for illegal sales and marketing practices involving Subsys, a highly addictive and dangerous synthetic opioid spray. Her qui tam lawsuit was unsealed and made public for the first time in 2018.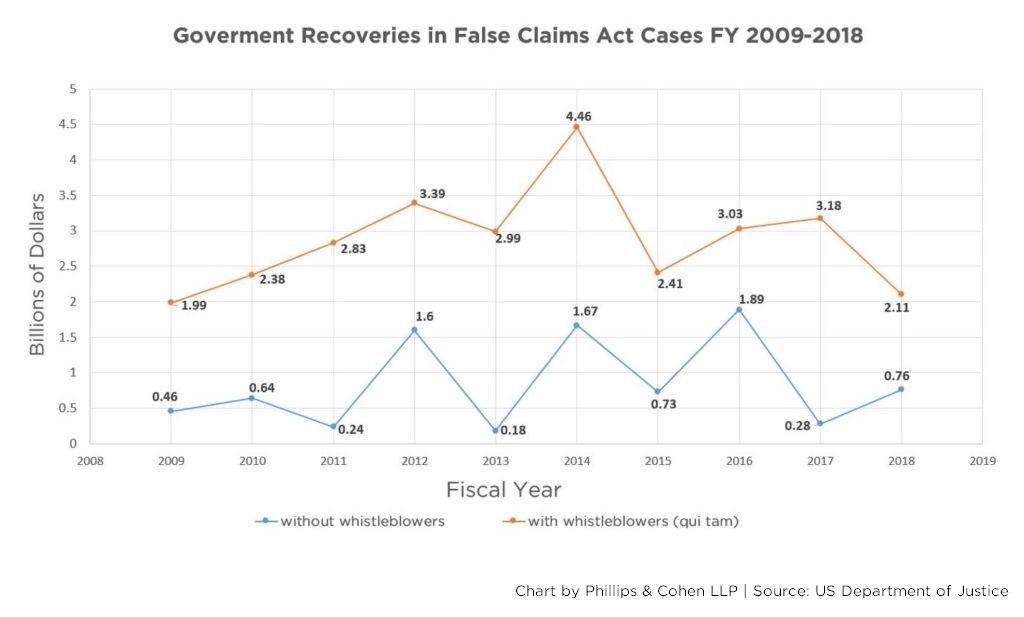 The federal government has recovered more than $42.5 billion – excluding billions in criminal fines – as a result of whistleblower cases since Congress amended and strengthened the False Claims Act in 1986. Whistleblowers in those cases have received rewards totaling more than $7 billion.
The False Claims Act allows private citizens to sue companies and individuals that are defrauding the government and recover funds on the government's behalf. Whistleblowers, known as "relators," are entitled to 15 percent to 30 percent of the government's recovery as a reward for their assistance and the risks they take by stepping forward. Learn more about the False Claims Act and qui tam lawsuits in our Whistleblower Resources.
If you are aware of Medicare fraud or other fraud against the government and would like to discuss your options with an attorney, please contact Phillips & Cohen for a free, confidential consultation.
Phillips & Cohen has the longest-standing and most successful practice representing whistleblowers under the False Claims Act and other government whistleblower reward programs, with more than $12.3 billion recovered as a result of our clients' cases. We have helped our clients collect a total of $1 billion in whistleblower rewards.
About Phillips & Cohen LLP
Phillips & Cohen is the most successful law firm representing whistleblowers, with recoveries from our cases totaling over $12.3 billion. We have been recognized for our work by numerous national awards. Our attorneys and cases have been in The New York Times, The Wall Street Journal, the Financial Times and other news media. Three of our cases were featured in the CBS series, "Whistleblower." Phillips & Cohen's roster includes former federal prosecutors, the first head of the SEC Office of the Whistleblower, a former deputy administrator of the Centers for Medicare and Medicaid Services, the author of a leading treatise on the False Claims Act and attorneys with decades of experience representing whistleblowers.