The number of whistleblower submissions to the US Securities and Exchange Commission whistleblower increased 18 percent the past year compared to the previous year, according to a recent SEC report, most likely due to a Supreme Court decision last February.
The SEC also awarded more money for whistleblower rewards in fiscal year 2018 – $168 million to 13 individuals – than it had in all prior years combined.
In Digital Realty v Somers, the Supreme Court rejected the SEC's position that the Dodd-Frank's anti-retaliation provisions cover any individual who reported securities law violations, whether through internal channels or the SEC. The court said only whistleblowers who report violations to the SEC before they are retaliated against are covered.
"The Supreme Court decision created a race to the SEC for whistleblowers, causing the number of whistleblowers to jump," said Erika Kelton, a partner at Phillips & Cohen LLP, which is the most successful law firm representing whistleblowers in government reward programs. "That ruling has compelled employees who suspect SEC violations by their companies to go to the SEC first before expressing any concerns to their supervisors or internal compliance systems, so to protect themselves."
The SEC's "2018 Annual Report to Congress on the Dodd-Frank Whistleblower Program"  said that SEC whistleblower submissions increased from 4,484 in 2017 to 5,282 in 2018 – the most submissions so far and the biggest annual jump.
"The increasing number of whistleblowers and awards shows that the SEC whistleblower program continues to be very strong," said Phillips & Cohen partner Sean X. McKessy, who served as Chief of the SEC Office of the Whistleblower for the program's first five years. "Many, if not most, of the SEC's investigations in recent years have been launched as a result of detailed information provided by whistleblowers."
Fiscal 2018 was a notable year for the whistleblower program in another way: The SEC made its largest whistleblower awards so far. Two whistleblowers who filed a joint submission were awarded $50 million and a third whistleblower was awarded $33 million. (All rewards are paid out of a fund financed through monetary sanctions paid by securities law violators.)
Before this year, the largest SEC award was $30 million (later increased to $32 million), which went to an international whistleblower represented by Kelton. Overall, the SEC has awarded $326 million to 59 individuals since the SEC whistleblower office opened in 2011.
"Whistleblowers should be encouraged by the SEC's willingness to pay sizeable awards when their information and assistance help stop major securities violations and result in large monetary sanctions," Kelton said. She has secured SEC whistleblower awards for three clients.
Roughly one out of 10 SEC whistleblowers are from outside the US, continuing a trend that has remained steady for the past few years. International whistleblowers turn to the US to report violations of the Foreign Corrupt Practices Act and US securities laws because of the financial incentives offered by the SEC and the promise of confidentiality.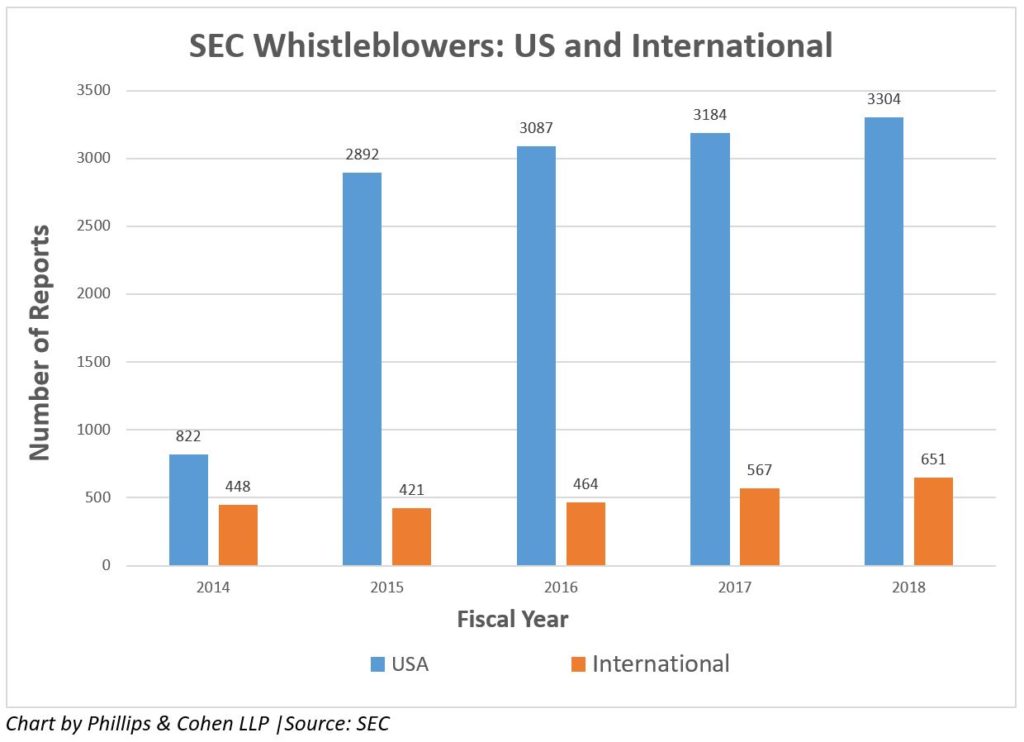 "SEC enforcement reaches around the world when there is a violation of US securities law, including bribery of foreign officials," said McKessy.
The SEC says it received 5,282 whistleblower submissions in fiscal 2018, which was from Oct. 1, 2017 to Sept. 30, 2018. Those reports were filed by 3,304 individuals in the US and 651 individuals in countries outside the US. (Some whistleblowers file more than one report.)
The largest number of international whistleblowers who filed SEC whistleblower claims were from Canada (89 individuals), the UK (85), Australia (45) and China (40). (See chart.)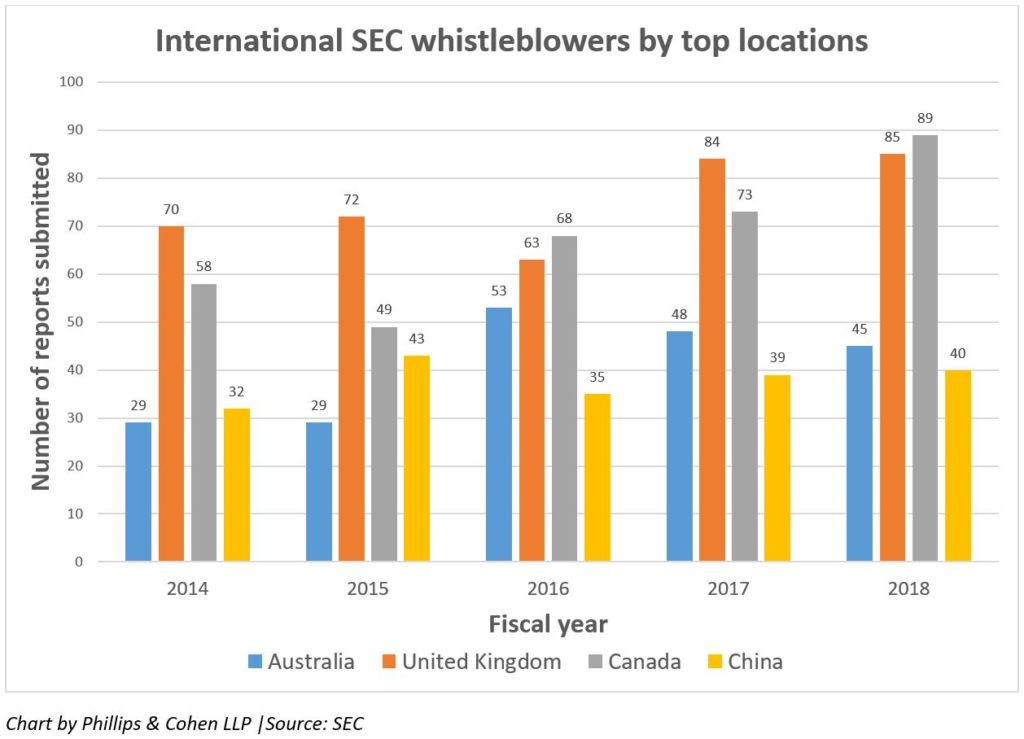 Since the program was created in 2010, the SEC has ordered enforcement sanctions totaling $1.7 billion based on information provided by whistleblowers, which includes $901 million in disgorgement of ill-gotten gains. Investors who have been harmed in those cases have received a total of $452 million.
The SEC has proposed changes in the whistleblower program that would make the process for whistleblowers more efficient but also would set limits on whistleblower awards, which would discourage whistleblowers in high-paying jobs from coming forward, Kelton said.
"Large awards are needed to attract high-level insiders who are likely to calculate that their potential loss of income from blowing the whistle is much greater than the award they could receive, and therefore decide to stay quiet," Kelton said. "The loss of those knowledgeable insiders would hurt the whistleblower program as well as the investors and markets the program is designed to help protect."
For more information about the SEC whistleblower program or how to file a SEC whistleblower claim, see SEC whistleblower program: an overview or contact Phillips & Cohen.