October 02, 2020
The Securities and Exchange Commission whistleblower program had a banner year in fiscal year 2020, with 39 whistleblowers receiving a total of $175 million in awards.
The total amount of SEC whistleblower rewards in FY 2020 eclipses the previous high of $168 million, which the SEC awarded in FY 2018. Last fiscal year, the SEC issued only $60 million in whistleblower awards to eight individuals.
The SEC issued whistleblower awards at an unprecedented pace the past nine months. On Sept. 30 alone, it made five awards that totaled $33.7 million to six whistleblowers. (Two whistleblowers filed jointly and were awarded jointly.)
"We've made significant strides to further streamline and accelerate the evaluation of claims … substantially increasing the rate at which whistleblower claims are evaluated and awards are issued," said Stephanie Avakian, Director of the SEC's Division of Enforcement, in a statement.
The SEC has awarded nearly $562 million to 106 whistleblowers since it issued its first award in 2012. The money for whistleblower awards comes out of an investor protection fund established by Congress that is financed entirely through monetary sanctions paid to the SEC by securities law violators.
The final streak of awards came only a week after the SEC adopted significant and controversial rule changes governing how it determines whistleblower awards. Certain rule changes were widely decried by whistleblower advocates, including Phillips & Cohen partners Erika Kelton and Sean McKessy, the founding former chief of the SEC's Office of the Whistleblower.
The new rules will allow the SEC to reduce awards it deems too large, although the awards must be within the 10% to 30% of the monetary sanction collected, as specified in the Dodd-Frank Act.
Both Kelton and McKessy argue that there is nothing in Dodd-Frank that gives the SEC the authority to arbitrarily reduce a whistleblower award simply because the SEC doesn't want to award such a large amount. They also expressed concern that the uncertainty about award amounts could deter whistleblowers from coming forward.
The rule changes also affect how the SEC evaluates awards for whistleblowers who provide information about securities law violations based on independent analysis. The changes make it more likely that the SEC could deny such whistleblowers rewards, possibly discouraging whistleblowers with valuable information from coming forward as well.
SEC whistleblower statistics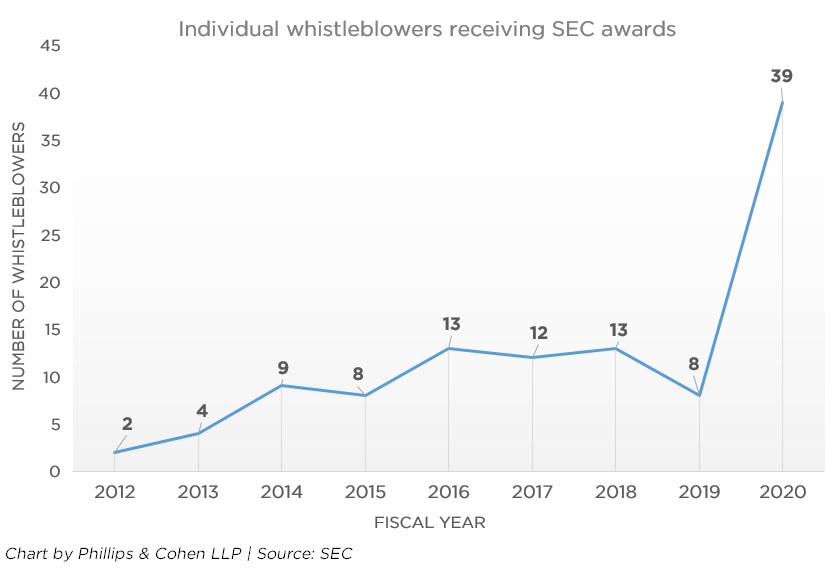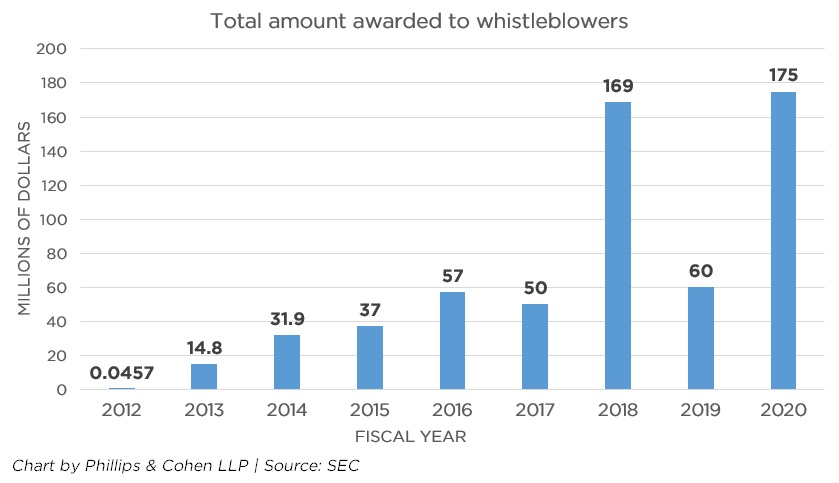 FY 2020: 39 whistleblowers, $175 million in awards
FY 2019: 8 whistleblowers, $60 million in awards
FY 2018: 13 whistleblowers, $168 million in awards
FY 2017: 12 whistleblowers, $50 million in awards
FY 2016: 13 whistleblowers $57 million in awards
FY 2015: 8 whistleblowers $37 million in awards
FY 2014: 9 whistleblowers, $31.9 million in awards
FY 2013: 4 whistleblowers, $14.8 million in awards
FY 2012: 2 whistleblowers, $45,700 in awards