September 01, 2022
Washington, DC, September 1, 2022— Washingtonian magazine has named two Phillips & Cohen LLP partners – Erika Kelton and Peter Wilson Chatfield—to its 2022 "Lawyer Lifetime Achievement" list for their work representing whistleblowers.  To qualify as "Lifetime Achievement" members, both whistleblower attorneys have been featured in Washingtonian's "Top Lawyers" list at least 10 times out of the past 15 years.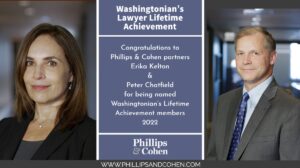 Kelton and Chatfield have had significant success representing whistleblowers, winning large settlements, and securing substantial rewards for their whistleblower clients. They also have a record of advocating for policies to improve whistleblower rights and protections.
Kelton is an internationally recognized whistleblower lawyer who won nine Dodd-Frank awards for her clients through the US Securities and Exchange Commission (SEC) and the Commodity Futures Trading Commission (CFTC) whistleblower programs — more than any other lawyer.
In 2022, Kelton won a whistleblower award for a combined $40 million from the SEC for an international client, likely the largest SEC award made ever to an international whistleblower.  She won a record-setting settlement from GlaxoSmithKline for $3 billion and a case against Pfizer for illegally marketing the painkiller, Bextra, which Pfizer paid $1.8.billion to settle.
Chatfield has more than two decades of experience representing whistleblowers, including a qui tam case against HCA, one of the nation's largest healthcare providers, which was the basis for a majority share of HCA's $881 million settlement with the government.
Also, Chatfield's had a case featured in an episode of the CBS program Whistleblower, which told the story of the first whistleblower to report and help prosecute the fraud for off-label marketing practices of man-made opioids against pharmaceutical manufacturer Cephalon. In that case, Cephalon Inc. paid a total of $425 million to settle four qui tam lawsuits and a criminal charge.
Washingtonian bases its "Top Lawyers" list on a survey of nearly 1,000 DC-area attorneys for input on who "they consider best among their peers." Washingtonian then undertakes additional research and reporting to put together the final list.
ABOUT PHILLIPS & COHEN
Phillips & Cohen is the most successful law firm representing whistleblowers, with recoveries from our cases totaling over $12.8 billion. We have been recognized for our work by numerous national awards. Our attorneys and cases have been in The New York Times, The Wall Street Journal, the Financial Times and other news media. Phillips & Cohen's roster includes former federal prosecutors, the first head of the SEC Office of the Whistleblower, a former deputy administrator of the Centers for Medicare and Medicaid Services, the author of a leading treatise on the False Claims Act and attorneys with decades of experience representing whistleblowers. Contact us.