August 20, 2020
WASHINGTON, DC, Aug. 20, 2020 – Best Lawyers has named three Phillips & Cohen whistleblower attorneys to its 2021 Best Lawyers in America list for their outstanding work, including one who was honored as a "Lawyer of the Year."
Phillips & Cohen partners Erika Kelton and Peter Chatfield were recognized as top lawyers in the qui tam (whistleblower) law practice area for the Washington, DC, area. Partner Mary Louise Cohen was included in Best Lawyers' health care law category for Washington, DC.
In addition, Kelton was honored with a "Lawyer of the Year" designation in the "qui tam" category for Washington, DC. Best Lawyers bestows its "Lawyer of the Year" designations only on one lawyer in each specific practice area and location annually.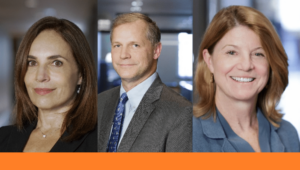 Kelton, Chatfield and Cohen have decades of experience representing whistleblowers in successful and complex cases.
Erika Kelton is an internationally recognized whistleblower attorney who represented the leading whistleblowers in the largest healthcare fraud settlements ever (GlaxoSmithKline, $3 billion, and Pfizer, $2.3 billion). She also won one of the largest whistleblower awards issued by the Securities and Exchange Commission (more than $32 million).
Peter Chatfield has had great success representing whistleblowers in complex, large-scale healthcare fraud cases. Mr. Chatfield represented the pharma sales representative who first exposed Cephalon's off-label marketing practices, which led to a $425 million settlement by the pharma company and Chatfield's appearance on the CBS's program Whistleblower to discuss the case. One of his more recent cases recovered over $54 million from blood-testing labs that allegedly cheated Medicare.
Mary Louise Cohen is a founding partner of Phillips & Cohen. Her contributions to the field of whistleblower law and her work representing whistleblowers have been recognized with numerous awards and distinctions, including a "Lifetime Achievement Award" bestowed by the whistleblower nonprofit, Taxpayers Against Fraud Education Fund.
Cohen's selection to the 2021 list marks her 10th year appearing on Best Lawyers' list of honors. Chatfield was named to the list for the first time. Kelton was first named to the list in 2019.
Best Lawyers recognizes the top tier of practicing attorneys in the US, highlighting top lawyers by geographical area and their respective legal practice area. The list is based on peer reviews and research by Best Lawyers.
ABOUT PHILLIPS & COHEN LLP
Phillips & Cohen is the most successful law firm representing whistleblowers, with recoveries from our cases totaling over $12.3 billion. We have been recognized for our work by numerous national awards. Our attorneys and cases have been in The New York Times, The Wall Street Journal, the Financial Times and other news media. Phillips & Cohen's roster includes former federal prosecutors, the first head of the SEC Office of the Whistleblower, a former deputy administrator of the Centers for Medicare and Medicaid Services, the author of a leading treatise on the False Claims Act and attorneys with decades of experience representing whistleblowers.