January 19, 2023
Washington, DC, January 19, 2023— Lawdragon has named five Phillips & Cohen partners –Peter Wilson Chatfield, Stephen Hasegawa, Erika Kelton, Colette Matzzie, and Sean McKessy —to its 2023 "500 Leading Lawyers in America" list.
Whistleblower attorneys Chatfield, Hasegawa, Kelton, Matzzie, and McKessy have had significant success representing whistleblowers, winning large settlements, and securing substantial rewards for their whistleblower clients.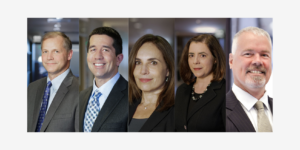 Mr. Chatfield has nearly three decades of experience representing whistleblowers, including a qui tam case against HCA, one of the nation's largest healthcare providers, which was the basis for a majority share of HCA's $881 million settlement with the government. Chatfield helped secure a $425 million settlement against Cephalon, Inc. for its off-label marketing of Fentanyl-based pain medications. 
Mr. Hasegawa represents whistleblowers in qui tam cases and whistleblower submissions involving numerous industries, including healthcare, defense, aerospace, financial service, and government procurement.  He secured a $75 million settlement against a subsidiary of Community Health Systems and three CHS hospitals. The qui tam lawsuit alleged the hospitals engaged in a scheme to improperly increase federal payments intended for indigent patient care.
Ms. Kelton is an internationally recognized whistleblower lawyer with more than three decades of experience representing whistleblowers.  Her cases have recovered billions, including securing 15 Dodd-Frank awards for her clients through the SEC and the CFTC whistleblower programs — more than any other lawyer. She won a record-setting settlement from GlaxoSmithKline for $3 billion, which was featured on the BBC's show Portfolio and secured a $40 million reward from the SEC for her whistleblower clients in 2022.
Ms. Matzzie's whistleblower cases against healthcare companies and government contractors under the False Claims Act have secured hundreds of millions to the United States Treasury. Her most recent work includes obtaining government intervention against four electronic health record companies, including a record-setting settlement against eClinicalWorks, alleging that it had falsely represented its compliance with federal requirements designed to ensure patient safety, and paid kickbacks in violation of federal law. That case settled for $155 million and was featured on the CBS series "Whistleblower."
Mr. McKessy represents clients under the SEC, CFTC and other regulatory whistleblower programs. In 2022, McKessy won a client a $20 million award from the SEC. Prior to joining P&C, he served as the first Chief of the SEC Office of the Whistleblower and was the principal architect of the SEC whistleblower program. The SEC recovered more than $500 million in sanctions as a result of whistleblowers' information and assistance during his tenure.
Phillips and Cohen's attorneys represent whistleblowers under the False Claims Act (FCA), the Securities and Exchange Commission (SEC), the Commodity Futures Trading Commission (CFTC), and Anti-Money Laundering (AML) whistleblower programs.
This is the 15th year in a row that Lawdragon has recognized Phillips & Cohen partners in its annual list of the "500 Leading Lawyers in America" for their successes representing whistleblowers.
ABOUT PHILLIPS & COHEN
Phillips & Cohen is the most successful law firm representing whistleblowers, with recoveries from our cases totaling over $12.8 billion. We have been recognized for our work with numerous national awards. Our attorneys and cases have been in The New York Times, The Wall Street Journal, the Financial Times and other news media. Phillips & Cohen's roster includes former federal prosecutors, the first head of the SEC Office of the Whistleblower, a former deputy administrator of the Centers for Medicare and Medicaid Services, the author of a leading treatise on the False Claims Act, and attorneys with decades of experience representing whistleblowers. Contact us.