October 22, 2020
The SEC has issued its largest whistleblower reward to date, awarding $114 million to a whistleblower who helped the SEC and another agency bring successful enforcement actions.
The record-breaking SEC whistleblower award may be the largest-ever whistleblower award issued under any government whistleblower reward program.
An IRS whistleblower who told authorities how UBS bankers helped thousands of US taxpayers avoid taxes was paid a reward of $104 million in 2012. That was the largest whistleblower award under a government program at the time.
In 2010, a whistleblower who brought a qui tam case against GlaxoSmithKline that settled for $750 million was awarded $96 million for her information and assistance.
Today's SEC whistleblower award eclipses the SEC's previous record whistleblower award to one individual – $50 million. The SEC made that whistleblower award in June.
The $114 million SEC reward comprises a $52 million award based on monetary sanctions collected by the SEC and a $62 million award based on sanctions by an unnamed agency.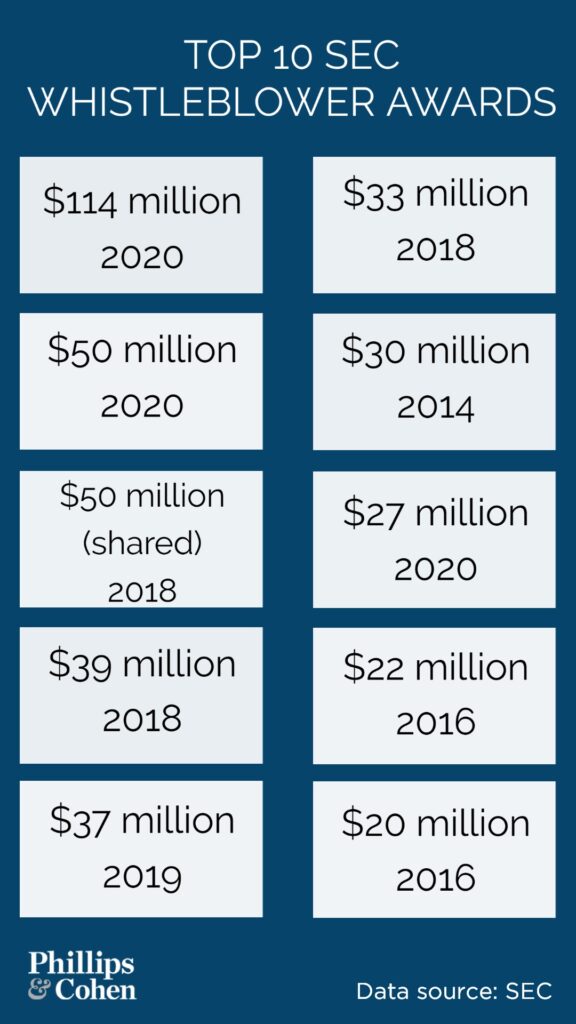 The whistleblower reported financial misconduct to the SEC and to another agency after repeatedly trying to report issues internally, in spite of suffering professional and personal hardships.
The whistleblower's substantial efforts to support the agencies' investigations while facing hardships were "extraordinary," said Jane Norberg, Chief of the SEC Office of the Whistleblower.
The record award comes three weeks after the SEC rounded out a banner fiscal year with its whistleblower program. In fiscal year 2020, the SEC issued $175 million in awards to 39 whistleblowers, significantly outpacing prior years.
The SEC has now awarded approximately $676 million to 108 whistleblowers since issuing its first whistleblower award in 2012.
The SEC rewards whistleblowers with 10 to 30 percent of the amount collected in sanctions, if the amount exceeds $1 million. The money for SEC whistleblower rewards comes from a special fund that is financed entirely through monetary sanctions paid to the SEC by securities law violators.
The Dodd-Frank Act, which established the SEC whistleblower program, also gives strong confidentiality safeguards for whistleblowers and protection from job retaliation to encourage them to report possible financial misconduct.
If you are aware of possible securities law violations and are thinking of becoming a whistleblower, contact us for a free, confidential consultation.
ABOUT PHILLIPS & COHEN LLP
Phillips & Cohen is the most successful law firm representing whistleblowers, with recoveries from our cases totaling over $12.3 billion. We have been recognized for our work by numerous national awards. The New York Times, The Wall Street Journal, the Financial Times and other news media have featured many stories about our cases and our attorneys. Phillips & Cohen's roster includes former federal prosecutors, the first head of the SEC Office of the Whistleblower, a former deputy administrator of the Centers for Medicare and Medicaid Services, the author of a leading treatise on the False Claims Act and attorneys with decades of experience representing whistleblowers.