June 10, 2020
The Securities and Exchange Commission whistleblower program set a record last week when the SEC awarded a former banking insider nearly $50 million, which is the largest SEC whistleblower award made to an individual so far.
The SEC paid out another whistleblower award of nearly $50 million  in 2018, but that was shared by two whistleblowers. The largest SEC whistleblower award made previously to just one individual was for $39 million, also in 2018.
The Wall Street Journal identified the SEC whistleblower who received the nearly $50 million award last week as a former trader at Bank of New York Mellon, Grant Wilson. He provided detailed information to the SEC alleging the bank regularly overcharged major institutional clients in foreign currency transactions.
BNY Mellon settled charges with the SEC for $163 million in 2016. The bank also committed to reporting on compliance improvements and make pricing disclosures to clients.
In a separate settlement, BNY Mellon paid an additional $714 million in 2015 to the federal government and New York state to settle related charges under the US Financial Institutional Reform, Recovery and Enforcement Act and the New York securities law known as the Martin Act.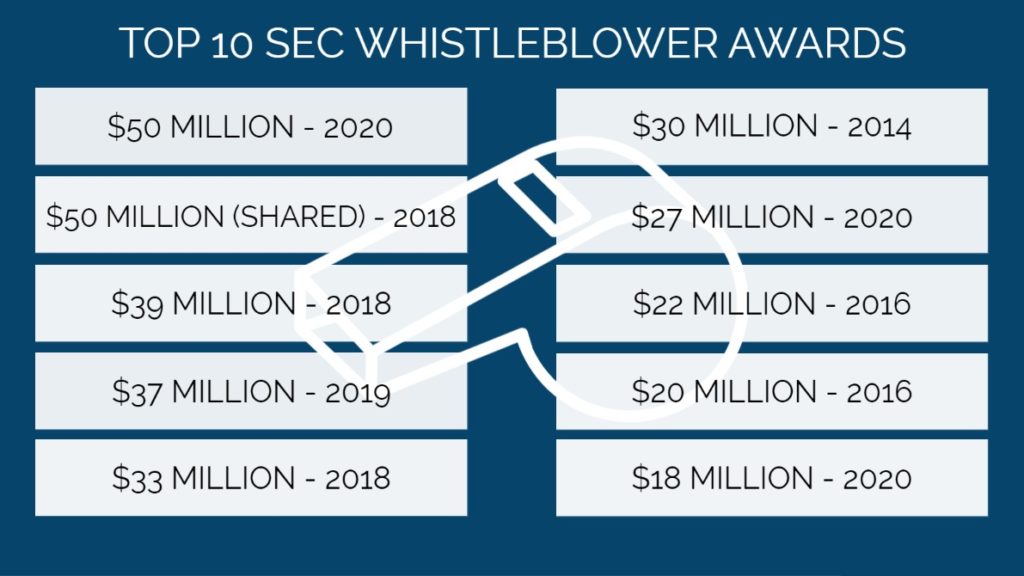 One of the recipients of the nearly $50 million SEC whistleblower award in 2018 publicly identified himself at the time. Ted Siedle, a former SEC lawyer who became a forensic investigator, said he received his award for providing information that led to JPMorgan Chase paying the government $267 million in 2015 to settle conflict-of-interest charges.
Siedle said he also obtained the largest CFTC whistleblower award so far, $30 million, for his share of monetary sanctions the CFTC collected in the JPMorgan Chase settlement.
Largest award to international whistleblower
Phillips & Cohen represented the international whistleblower who received what is apparently the largest SEC whistleblower award made to an individual living in a foreign country.
The SEC originally awarded the international whistleblower $30 million and later increased the total award to more than $32 million.
The SEC's whistleblower program is open to overseas whistleblowers aware of financial misconduct abroad. Whistleblowers need not be US citizens or reside in the United States to report violations of US securities law or violations of the US anti-bribery law, the Foreign Corrupt Practices Act (FCPA). Like other SEC whistleblowers, they are eligible for whistleblower rewards and their information provided to the SEC is confidential.
More SEC whistleblower awards made this year
The SEC has been issuing awards at a record pace in 2020. So far this year, the SEC has announced 12 awards to 13 whistleblowers, totaling nearly $114 million. The SEC issued only seven awards to 10 whistleblowers during the entire 2019 calendar year, paying them slightly over $60 million in total.
"Whistleblowers have proven to be a critical tool in the enforcement arsenal to combat fraud and protect investors," said Jane Norberg, chief of the SEC Office of the Whistleblower, in a statement that announced the record $50 million SEC whistleblower award.
With the latest reward, the SEC has awarded over $500 million to whistleblowers since the SEC set up the program in 2012.
How to get SEC and CFTC whistleblower awards
Whistleblowers who report wrongdoing to the Securities and Exchange Commission are eligible to receive a reward if enforcement agencies recover more than $1 million as a result of the whistleblower's information. Rewards range from 10 to 30 percent of the amount the SEC is able to collect, based on the significance of the information and assistance provided by the whistleblower and their attorneys.
Under provisions of the Dodd-Frank Act, SEC whistleblowers are entitled to protection from job retaliation. Employers are prohibited from firing, demoting, harassing, threatening or otherwise discriminating against employees who blow the whistle. Whistleblowers who are retaliated against may sue for reinstatement, back pay and any other damages that occurred if they reported their allegations to the SEC before the retaliation happened.
The SEC keeps the identity of whistleblowers confidential to the fullest extent possible, with limited exceptions. SEC whistleblowers may report fraud and other securities law violations anonymously as long as they are represented by a lawyer.
Rewards paid to SEC whistleblowers come from an investor protection fund established by Congress. The fund is financed entirely through monetary sanctions the SEC collects; payments to whistleblowers are not taken or withheld from the funds of harmed investors that the SEC recovers.
If you are aware of securities fraud and are considering reporting financial wrongdoing, you should consult with an experienced SEC whistleblower attorney who can discuss how to report in a manner that protects you from employment retaliation and increases your chances of receiving an award. For a free, confidential consultation, contact Phillips & Cohen.
List of SEC whistleblower awards for 2019 and 2020
2019
Mar. 26, 2019 – $13 million.
Mar. 26, 2019 – $37 million.
May 24, 2019 – $4.5 million.
June 3, 2019 – $3 million. (Two whistleblowers reported jointly.)
July 23, 2019 – $500,000. (International whistleblower.)
Aug. 29, 2019 – $1.8 million (Whistleblower reported overseas misconduct.)
Nov. 15, 2019 – $260,000. (Single award shared by three whistleblowers.)
2020
Jan. 22, 2020 – $277,000.
Jan. 22, 2020 – $45,000.
Feb. 28, 2020 – $7 million.
Mar. 23, 2020 – $1.6 million.
Mar. 23, 2020 – $570,000. (Two whistleblowers shared the award.)
Mar. 30, 2020 – $450,000. (Whistleblower was a compliance officer.)
April 3, 2020 – $2 million.
April 16, 2020 – $27 million.
April 20, 2020 – $5 million. (International whistleblower was fired for reporting internally.)
April 28, 2020 – $18 million.
May 4, 2020 – $2 million.
June 4, 2020 – Nearly $50 million. (Largest whistleblower award to an individual to date.) 
About Phillips & Cohen LLP
Phillips & Cohen is the most successful law firm representing whistleblowers, with recoveries from our cases totaling over $12.3 billion. We have been recognized for our work by numerous national awards. Our attorneys and cases have been in The New York Times, The Wall Street Journal, the Financial Times and other news media. Three of our cases were featured in the CBS series, "Whistleblower." Phillips & Cohen's roster includes former federal prosecutors, the first head of the SEC Office of the Whistleblower, a former deputy administrator of the Centers for Medicare and Medicaid Services, the author of a leading treatise on the False Claims Act and attorneys with decades of experience representing whistleblowers.