August 18, 2021
NEW YORK CITY, Aug. 18, 2021 – Lawdragon magazine has named 10 Phillips & Cohen partners to its 2021 list of the "500 Leading Plaintiff Financial Lawyers" for their outstanding record of achievements in representing whistleblowers.
Phillips & Cohen partners John Phillips, Mary Louise Cohen, Erika Kelton, Peter Chatfield, Colette Matzzie, Claire Sylvia, Stephen Hasegawa, Sean McKessy, Jeffrey Dickstein and Amy Easton are included in Lawdragon's list. This is the third year in a row they have been honored by the recognition.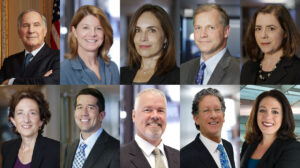 Lawdragon's "500 Leading Plaintiff Financial Lawyers" list celebrates lawyers who excel in representing plaintiffs in securities, antitrust and whistleblower claims, and complex financial litigation and data privacy invasions. Lawdragon employs a combination of editorial research, law firm submissions and a nomination system to select attorneys to its rankings.
ABOUT PHILLIPS & COHEN
Phillips & Cohen is the most successful law firm representing whistleblowers, with recoveries from our cases totaling over $12.8 billion. We have been recognized for our work by numerous national awards. Our attorneys and cases have been in The New York Times, The Wall Street Journal, the Financial Times and other news media. Three of our cases were featured in the CBS series, "Whistleblower."