October 05, 2022
SAN FRANCISCO, CA, Oct. 5, 2022 – Phillips & Cohen partner Claire M. Sylvia was honored as a "Litigation Star" by Benchmark Litigation for 2023 for her record of success representing whistleblowers in qui tam litigation and for her expertise in False Claims Act matters. This is the fifth year in a row that Benchmark Litigation has selected Sylvia as a "Litigation Star."
Claire Sylvia is a nationally recognized authority in False Claims Act matters. Her book, The False Claims Act: Fraud Against The Government (West 2016 & Supplements), has been an important reference for attorneys and judges since it was first published in 2004.  She is a frequent author and speaker on False Claims Act developments and trends and co-teaches a course on whistleblower law at the U.C. Berkeley School of Law.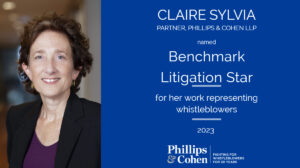 Sylvia has represented whistleblowers in a variety of successful False Claims Act cases, achieving significant settlements in cases involving a variety of industries and securing meaningful awards for her whistleblower clients.
Among her successes is a first-of-its-kind federal and state False Claims Act case involving cybersecurity issues, which Cisco Systems paid $8.6 million to resolve. In 2021, Sylvia along with her partner Colette Matzzie represented the whistleblower in a qui tam case brought against military contractor AAR Corp, securing an $11 million settlement and a $2.16 million award for their client.
Sylvia has testified before U.S. congressional committees and the California state legislature on healthcare fraud and the False Claims Act.
Benchmark Litigation selects its "Litigation Star" honorees based on attorneys' records of success, and recommendations by their clients and peers, highlighting "only firms and litigators that are of an elite status."
ABOUT PHILLIPS & COHEN
Phillips & Cohen is the most successful law firm representing whistleblowers, with recoveries from our cases totaling over $12.8 billion. We have been recognized for our work with numerous national awards. Our attorneys and cases have been in The New York Times, The Wall Street Journal, the Financial Times and other news media. Phillips & Cohen's roster includes former federal prosecutors, the first head of the SEC Office of the Whistleblower, a former deputy administrator of the Centers for Medicare and Medicaid Services, the author of a leading treatise on the False Claims Act, and attorneys with decades of experience representing whistleblowers. Contact us.