August 19, 2021
WASHINGTON, DC, Aug. 19, 2021 – Five Phillips & Cohen attorneys have been selected for Best Lawyers in America 2022 edition for their work representing whistleblowers.
Phillips & Cohen partners Mary Louise Cohen, Erika Kelton, Peter Chatfield and Colette Matzzie as well as Of Counsel Larry Zoglin are included in the Best Lawyers' list. Cohen additionally is being recognized specifically in the healthcare law category.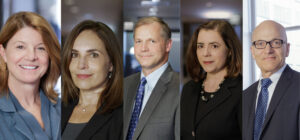 Kelton, Chatfield, and Cohen also were recognized in the 2021 edition of Best Lawyers in America. Phillips & Cohen LLP has been selected for Best Lawyers "Best Law Firms" list five consecutive years, most recently in the 2021 edition.
Best Lawyers' lists are based on feedback received from other top lawyers working in the same practice areas and geographic regions.
If you are aware of fraud against the government or corporate wrongdoing that violates securities or commodities laws and would like to discuss your situation with experienced whistleblower lawyers, contact Phillips & Cohen for a free, confidential review.
ABOUT PHILLIPS & COHEN
Phillips & Cohen is the most successful law firm representing whistleblowers, with recoveries from our cases totaling over $12.8 billion. We have been recognized for our work by numerous national awards. Our attorneys and cases have been in The New York Times, The Wall Street Journal, the Financial Times and other news media. Phillips & Cohen's roster includes former federal prosecutors, the first head of the SEC Office of the Whistleblower, a former deputy administrator of the Centers for Medicare and Medicaid Services, the author of a leading treatise on the False Claims Act and attorneys with decades of experience representing whistleblowers. Contact us.